The Purpose of this page is to bring together all the different posts that I have written around the Soviet Army. The posts on this page should provide a comprehensive guide to collecting building and organising a Cold War Soviet Army of the 1980s

The page covers
Orbat - Organisational and Equipment detail for the Cold War Soviet Army of the 1980's
Wargames Units - Eye Candy on the units produced and details on model and figure manufacturers
Modelling - Posts covering general modelling topics relevant to the Cold War Soviet Army
Reviews - Reviews of Models, Figures, Books, Web Resources and Products used in producing the Army
Bibliography - The list of reference books I have used are outlined in the Cold War Soviet Reference books Link below.
The Soviet Army on the Central Front
The ORBAT posts provide an overview of the organisation and equipment of the army units and suggest ways these might be represented on the table top


The Tactical Techniques and Procedures are about just that they cover how operations were conducted largely at the Tacticle level, which for me is Regiment and below. These form the basis for the development of Scenarios which tend to be set within the operational and organisational context of the Orbat posts.
Wargames Units
The Wargames units show pictures and models from my collection representing units of the Soviet Army in the Cold War. The units are organised for Rapid fire using a vehicle scale of 1:3. The posts also cover the manufacturers of the various vehicles and figures used.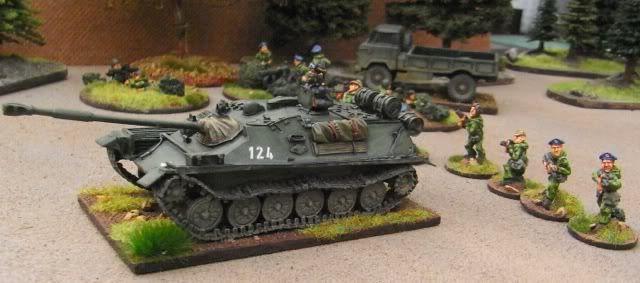 Modelling
The Modelling posts cover aspects of modelling the Soviet Armys.



Modelling - Cold War Soviet Vehicle Markings and Decals
Reviews
Review - Model 1/72, Mi-24 Hind, Italeri, Zveda, Matchbox, Airfix
Review - Model 1/72, Hobby Den MTLB
Review - Model 1/72, Revell Mi 26 Halo
Review - Model, S&S 1/72 2S3 Akatsiya
Review - Model 1/72, S&S GSP Ferry
Review - Model 1/72, S&S MT-55 Bridgelayer
Review - Model 1/72, S&S BRDM2 AT-5
Review - Model 1/72, S&S 2S1
Review - Model 1/72, S&S Gaz 66
Review - Model 1/72, S&S Kraz Truck
Review - Figures 20mm, Elhiem Cold War Soviets in NBC
Review- Book, AFM Volume 2, Part 2, A Treatise on Soviet Operational Art, 1991
Review-Book, The Race to The Swift, R Simpkin, 1985
Review-Book, Soviet/Russian Armour and Artillery Design Practices
Review-Book, Red God of War, Soviet Artillery and Rocket Forces
Review-Book, Jane's Armour and Artillery 2002/2003
Review- Book, Confrontation, The Strategic Geography of NATO and the Warsaw Pact
Review - Book, Mil Mi 8/Mi - 17 Rotary Wing Work Horse and War Horse
Review - Book, A History of Soviet Airborne Forces
Review - Book, Soviet Tactical Aviation
Review - Book, Red Thrust, Attack on the Central Front: Soviet Tactics and Capabilities in The 1990s
Review - Book, The Soviet Afghan War, How a Super Power Fought and Lost
Review - Book, Weapons and Tactics of the Soviet Army
Review - Book, Soviet Air Land Battle Tactics, WP Baxter
Review - Book, The Soviet Conduct of Tactical Manoeuvre
Review-Web Resources, Voroshilov Academy Lectures
Review-Web Resources, Soviet Armed Forces 1945-1991
Review - Web Resources, Fire and Furry Cold War Orbats and Modern Resource
s
Review-Web Resources, The Essentials of Cold War Soviet Doctrine and Organisation for Free
Review - Web Resources, Soviet 16th Air Arm
Review - Web Resources, Armoured Acorn Web Site
Review - Web Resources, CIA FOIA Site
Review - Web Resources Airpower Australia
Review - Web Resources, DTIC on Line
Review - Product, East Riding MDF Bases
Review - Product, Coresec Flight Stands